Biocair, along with two other companies, has been awarded a contract for the express freight service to deliver medicines and medical products within 24 to 48 hours if there's a no-deal Brexit.
Contracts have been awarded to UPS, DFDS and Biocair for the Department of Health and Social Care's express freight service. The new service will help to ensure that patients and care providers have access to medicines and medical products after Brexit.
As part of the service, Biocair will be relied upon to transport vital medicines and medical products from the location they are produced to the point they are needed within 24 to 48 hours, to meet any urgent needs that might arise.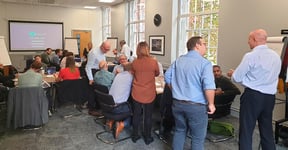 The express freight service provides access to Biocair's specialised express logistics networks that is capable of moving a wide range of medicines, devices and products required for the delivery of safe, high-quality care for patients across the UK.
Via this express freight service, the NHS will have access to:
Biocair has extensive experience of operating logistics networks serving Europe and the UK using a mixture of air and road transport to support the express movement of products. As the only major speciality logistics provider in the UK that has a Combined Customs Simplifications/Security and Safety AEO certificate (AEOF), Biocair's role in the international supply chain is secure and operates efficient customs procedures, often exceeding EU and competitor standards.
Chris Cooke, Biocair CEO, comments "Being awarded this contract is a true testament to the knowledge and the expertise of Biocair's fantastic team in providing specialist logistics services to the medical and pharmaceutical sectors. In the event of a no-deal Brexit, Biocair will be one of the preferred logistics partners to transport medicines, devices and products across Europe and the UK. Biocair has prepared extensively for all possible scenarios of Brexit and has regularly kept its customers up to date with any updates, including hosting several Brexit workshops, creating a strategic Brexit team and investing in technology and personnel to manage the transition post Brexit. We are delighted to be working with the DHSC to ensure that patients and care providers have access to the medicines they need."
For more information, contact brexit@biocair.com or your local Biocair office.