Many cell phone users have rejoiced in 5G network connectivity since 2019, streaming, downloading and communicating faster than ever before. Though supply chain managers have been slower to adopt 5G connected devices, they too are seeing the incredible connectivity, visibility and reliability benefits of 5G. Now, the 5G network is not only improving connectivity across wireless devices, but it is also proving to be more sustainable than the 3G and 4G networks.
A faster and more reliable wireless network is especially beneficial for cold chain logistics. 5G connected tracking and monitoring devices offer real-time tracking and condition monitoring, minimizing the risk of time and temperature-sensitive materials degrading while in transit. In fact, the shift from older networks to 5G will be instrumental in scaling up drug research and manufacturing as treatments become more personalized and complex.
Benefits of the 5G network are bolstered by the ability for artificially intelligent (AI) systems and the Internet of Things (IoT) to improve the way data is collected, stored, and analyzed. This combination of innovative technologies will continue to push the limits of global supply chain logistics.

Sustainable logistics solutions
We can all appreciate faster and more reliable internet speeds, but we can now also celebrate the sustainable benefits of the 5G network. Collecting and transmitting data takes a lot of energy. The 5G infrastructure requires fewer resources to deliver a better wireless network. The implementation of 5G and AI technologies can make for significant energy savings.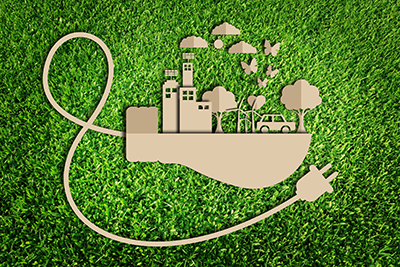 Wasting less energy when there is less demand on the network
We all know that turning off the lights when you leave the room saves energy, but do you always remember? Fortunately, many of us don't need to remember to flip the light switch because automatic systems are smart enough to sense when a room isn't being used.
Now, highly connected telecommunications systems are using this concept to decrease energy use when there is less demand for wireless connectivity. AI systems that rely on the 5G network can interpret data, like real-time demand and network availability, and temporarily shut down system components when fewer people are trying to access the network.
Smart technologies and AI are expected to help the US reach 20% of its energy reduction goals by 2025, all while providing up to 100 times higher bandwidth than 4G. As regulatory bodies and customers push for more sustainable business practices, 5G connected devices provide a path for supply chain managers to reduce carbon emissions.
More devices supported with the 5G network
Does it ever seem like you have worse cell service when you are in a crowded place? It is because wireless networks have a finite ability to support devices, which means users are constantly competing for connectivity. The number of devices supported by 5G per square mile is dramatically improved from earlier networks, allowing more users to connect without latency issues.
The 4G network supported 10,000 devices per square mile. Now, regions where 5G has been implemented are able to support one million devices in the same amount of area. Demand for wireless connectivity continues to grow, which is especially consequential for logistics and supply chain managers. But fortunately, the network is rapidly growing to meet demand and more 5G connected tracking devices that deliver real-time data are coming to market.
5G connected tracking and monitoring devices allow for more proactive risk mitigation capabilities. Potential shipping issues or temperature excursions are more likely to be resolved before the product degrades or becomes unviable. Slower monitoring systems that rely on 2G - 4G could have more data gaps, meaning supply chain managers may not see the temperature of a dry ice shipment increasing until it is too late, for example.
With 5G live monitoring capabilities, the temperature can be closely monitored during a shipment so that dry ice or liquid nitrogen can be added before it is necessary, potentially saving a product that would've otherwise been lost. This means less need for repeat shipments because of product degradation, and therefore fewer carbon emissions from transport. Not only is this more sustainable, but it means less burden on patients participating in clinical trials and advanced medical treatments.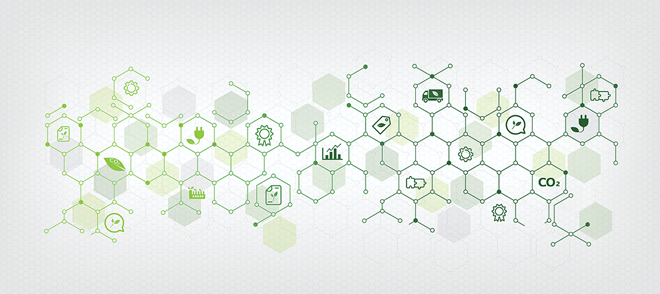 Efficiency at every step
With the potential for real-time data gathering and analysis still emerging, exciting things lie ahead for supply chain and communications managers. But questions remain about the ethics and feasibility of depending on an ultra-connected network.
We are already seeing surges in network demand as more individuals and industries look to the 5G network for more streaming, communication and other activities that demand a lot of energy. That is why it is important to look for efficiencies at every step in a system or process.
For the life science community, that means considering logistics, supply chain partners, packaging requirements and standard procedures early to identify energy and resource-saving opportunities.

Emily Gaither
Packaging Solutions Coordinator
Emily is a key member of Biocair's Packaging Solutions Team, with expertise in cold chain packaging and integrated technologies for use in the cell & gene therapy sector. With a degree in Packaging Science, and previous experience leading plastic packaging innovation and development, Emily leverages her packaging expertise to help Biocair move science forward.